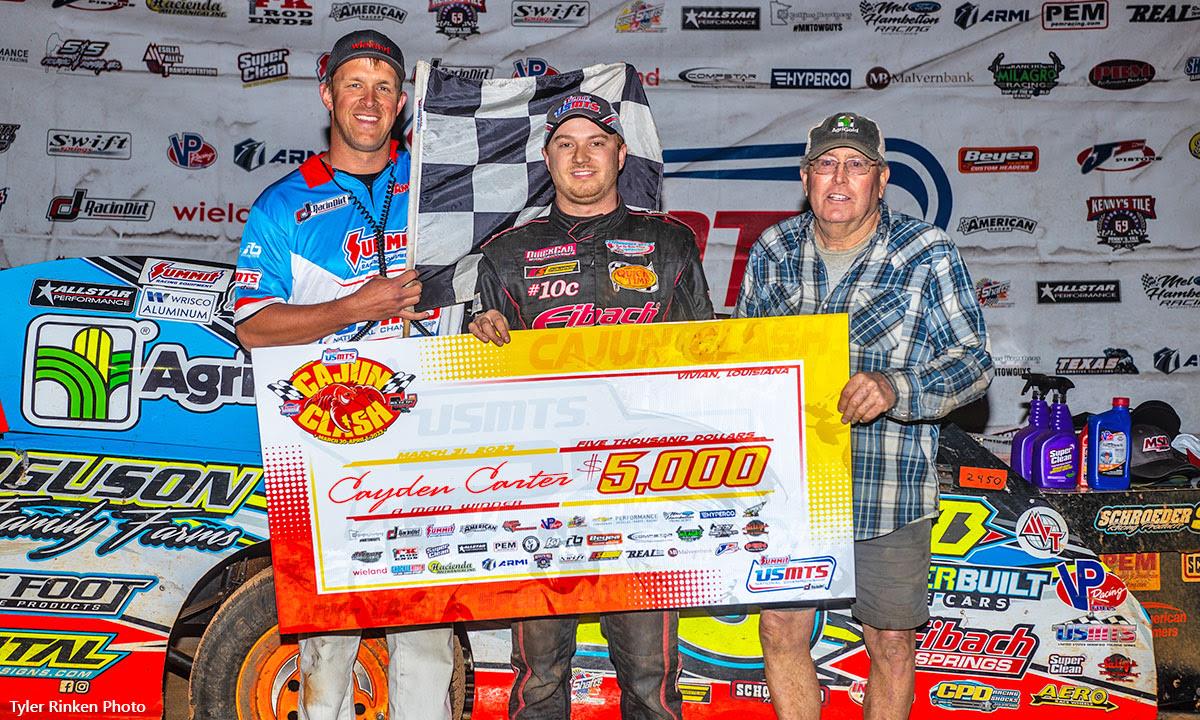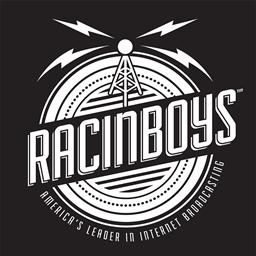 ---
Carter holds off Berry at Ark-La-Tex Speedway
By USMTS (Vivian, LA) -- The Ark-La-Tex Speedway in Vivian, Louisiana, played host to the second round of the 10th Annual USMTS Cajun Clash Friday night with a rookie champ and a rookie title chaser stealing the show at the 'Land of Three Wide.'
Another gathering of open-wheel modified muscle filled the pit area for the sixth race of the Summit USMTS National Championship presented by RacinDirt.
Cayden Carter earned the Sybesma Graphics Pole Award but it was 'Big Daddy' Joe Duvall who seizes control on the opening lap. With Carter following in Duvall's tire tracks around the red clay oval, the yellow flag waved for the first time on lap 12 when the leader's first lapped car spun just in front of the lead pack.
At the same time, Tyler Wolff retired with drivetrain issues and another quick caution slowed the pace on the restart when Cade Dillard stopped atop turn two with a flat tire.
The caution came out for a third time on lap 16 due to a five-car pile-up in turn four, but it was one lap too late for Duvall as Carter wrestled the lead away just in time to lead the field back to the green flag with Duvall, Jake O'Neil, Will Krup and Jade Luzenberg following.
Action was short-lived again when Luzenberg went sideways in the first corner, collecting Dan Ebert in the process and yielding the fourth caution and ending Luzenberg's impressive effort.
Meanwhile, Carter exploded to a big lead over O'Neil and Duvall on the restart while multiple positions throughout the field put on a show for the fans until the fifth caution came out with 26 laps down and 14 to go.
The restart brought tom Berry Jr. into the picture as the rim-riding rookie picked off Rodney Sanders and Duvall in the first six laps. With eight to go, he drove around O'Neil for second and set his sights on Carter.
Lapped traffic with two laps to go made for a nail-biting finish that saw Carter forced to move to the outside, thus blocking Berry's charge. Carter crossed the finish line with Berry at his side in second.
"I heard him out there, and knew I had to do something to just break his speed," Carter reveled in victory lane. "He's won a lot of big races the last few years so it's great to get the win."
Behind last years Grant Junghans USMTS Rookie of the Year and Berry, who is aiming at the same $10,000 title this season, it was O'Neil hanging on for third with Sanders edging Duvall for fifth.
Dereck Ramirez, Krup, Jim Chisholm, Jason Hughes and Carlos Ahumada Jr. completed the top ten on the near-perfect racing surface.
Action continues Saturday at the Ark-La-Tex Speedway for round three of the 10th Annual USMTS Cajun Clash and a $10,000 winner's paycheck just waiting for a name to be written on it. USRA Limited Mods, Sunoco USRA Factory Stocks and USRA Tuners will also be on the card.
The Summit USMTS National Championship presented by RacinDirt currently features 46 nights of racing at 15 of America's premier dirt track racing venues in nine states for its Silver Anniversary season. Just the winners of those events are set to earn more than $300,000 with nearly $2 million in purses and prize money earmarked for the 2023 campaign.
Watch every USMTS event online live and on-demand from anywhere on any device with RacinDirt. Download the app at Roku, Amazon Fire, iOS, Apple TV or on Google Play.
Visit usmts.com for schedules, points, photos, souvenirs, videos and more. Follow our social media channels on Facebook, Instagram, Twitter and YouTube. Click here to get USMTS news delivered to your inbox.
RESULTS
Summit Racing Equipment A Feature 1 (40 Laps): 1. 10C-Cayden Carter[1]; 2. 11X-Tom Berry Jr[14]; 3. 0-Jake O'Neil[4]; 4. 20-Rodney Sanders[5]; 5. 91-Joe Duvall[2]; 6. 4R-Dereck Ramirez[6]; 7. K9-Will Krup[8]; 8. 24C-Jim Chisholm[19]; 9. 12-Jason Hughes[7]; 10. 65X-Carlos Ahumada Jr[10]; 11. 16-Chris Henigan[17]; 12. 58X-Gary Christian[16]; 13. 75-Terry Phillips[22]; 14. 33Z-Zack VanderBeek[27]; 15. 97-Cade Dillard[13]; 16. 87-Darron Fuqua[25]; 17. 38T-Dylan Thornton[15]; 18. 45-Chase Holland[9]; 19. 02-Tanner Mullens[29]; 20. 21-Jacob Bleess[11]; 21. 16B-Randy Brown[23]; 22. 10B-Brandon Givens[26]; 23. 99L-Steve Lavasseur[20]; 24. 21K-Kyle Brown[28]; 25. 60-Dan Ebert[21]; 26. 01-Jacob Hobscheidt[24]; 27. 6-Donnie Powers[18]; 28. 46-Jade Luzenberg[3]; 29. 4W-Tyler Wolff[12]
Real Racing Wheels B Feature 1 (15 Laps): 1. 97-Cade Dillard[1]; 2. 58X-Gary Christian[2]; 3. 24C-Jim Chisholm[6]; 4. 75-Terry Phillips[3]; 5. 87-Darron Fuqua[7]; 6. 712-Trevor Hughes[4]; 7. 2G-Kenny Gaddis[5]; 8. 4RJ-Jared Russell[14]; 9. 38TX-TJ Tolleson[12]; 10. 11N-Gene Nicholas[13]; 11. 33Z-Zack VanderBeek[11]; 12. 64-Casey Fowler[15]; 13. 7-Al Hejna[10]; 14. 56-Colton Horner[8]; 15. 24W-Mason Williams[9]
Real Racing Wheels B Feature 2 (15 Laps): 1. 11X-Tom Berry Jr[1]; 2. 16-Chris Henigan[3]; 3. 99L-Steve Lavasseur[2]; 4. 16B-Randy Brown[4]; 5. 7S-Sean Gaddis[5]; 6. D25W-Kale Westover[10]; 7. 12J-Jason Ingalls[7]; 8. 71M-Chad Melton[13]; 9. 21K-Kyle Brown[9]; 10. 13J-James McCreery[11]; 11. 76-Kyle Pleasant[8]; 12. 15-Chase Wascom[12]; 13. 9R-Barron Prince[14]; 14. 24M-Manuel Williams II[15]; 15. 24-Manuel Williams Sr[6]
Real Racing Wheels B Feature 3 (15 Laps): 1. 38T-Dylan Thornton[1]; 2. 6-Donnie Powers[2]; 3. 60-Dan Ebert[3]; 4. 01-Jacob Hobscheidt[4]; 5. 4-Jeremy Nelson[6]; 6. 10B-Brandon Givens[5]; 7. 02-Tanner Mullens[7]; 8. C7-Corey Neil Jr[11]; 9. 56X-Broc Bowen[8]; 10. D25-David Tanner[10]; 11. 96-Taton Hansen[14]; 12. 78-Billy Jack Brutchin[12]; 13. 40-Jessy Willard[13]; 14. 25C-Cody Thompson[9]
Simpson Performance Products Heat 1 (10 Laps): 1. 45-Chase Holland[1]; 2. 99L-Steve Lavasseur[2]; 3. 4R-Dereck Ramirez[6]; 4. 38T-Dylan Thornton[5]; 5. 10B-Brandon Givens[7]; 6. 76-Kyle Pleasant[3]; 7. 24W-Mason Williams[8]; 8. D25-David Tanner[10]; 9. 11N-Gene Nicholas[9]; 10. (DQ) 24M-Manuel Williams II[4]
Fast Shafts Heat 2 (10 Laps): 1. 65X-Carlos Ahumada Jr[1]; 2. 6-Donnie Powers[2]; 3. 75-Terry Phillips[4]; 4. 7S-Sean Gaddis[3]; 5. 60-Dan Ebert[6]; 6. 4-Jeremy Nelson[5]; 7. 7-Al Hejna[7]; 8. 38TX-TJ Tolleson[8]; 9. 71M-Chad Melton[9]; 10. (DNS) 64-Casey Fowler
Edelbrock Heat 3 (10 Laps): 1. 0-Jake O'Neil[2]; 2. 4W-Tyler Wolff[4]; 3. 91-Joe Duvall[6]; 4. 24-Manuel Williams Sr[1]; 5. 02-Tanner Mullens[3]; 6. 87-Darron Fuqua[5]; 7. D25W-Kale Westover[7]; 8. 15-Chase Wascom[8]; 9. 40-Jessy Willard[9]
Wieland Heat 4 (10 Laps): 1. 46-Jade Luzenberg[2]; 2. 20-Rodney Sanders[6]; 3. 16-Chris Henigan[4]; 4. 58X-Gary Christian[5]; 5. 01-Jacob Hobscheidt[8]; 6. 12J-Jason Ingalls[9]; 7. C7-Corey Neil Jr[1]; 8. 78-Billy Jack Brutchin[7]; 9. 96-Taton Hansen[3]
VP Race Fuels Heat 5 (10 Laps): 1. 10C-Cayden Carter[2]; 2. 11X-Tom Berry Jr[3]; 3. K9-Will Krup[5]; 4. 97-Cade Dillard[6]; 5. 24C-Jim Chisholm[7]; 6. 21K-Kyle Brown[1]; 7. 33Z-Zack VanderBeek[4]; 8. 13J-James McCreery[9]; 9. 4RJ-Jared Russell[8]
Super Clean Heat 6 (10 Laps): 1. 21-Jacob Bleess[1]; 2. 12-Jason Hughes[5]; 3. 712-Trevor Hughes[2]; 4. 2G-Kenny Gaddis[4]; 5. 16B-Randy Brown[9]; 6. 56X-Broc Bowen[3]; 7. 25C-Cody Thompson[8]; 8. 56-Colton Horner[6]; 9. 9R-Barron Prince[7]
Qualifying 1: 1. 4R-Dereck Ramirez, 00:15.668[1]; 2. 38T-Dylan Thornton, 00:15.866[7]; 3. 24M-Manuel Williams II, 00:16.073[5]; 4. 76-Kyle Pleasant, 00:16.075[2]; 5. 99L-Steve Lavasseur, 00:16.150[6]; 6. 45-Chase Holland, 00:16.183[8]; 7. 10B-Brandon Givens, 00:16.187[3]; 8. 24W-Mason Williams, 00:16.278[9]; 9. 11N-Gene Nicholas, 00:16.704[10]; 10. D25-David Tanner, 00:16.717[4]
Qualifying 2: 1. 60-Dan Ebert, 00:15.612[1]; 2. 4-Jeremy Nelson, 00:15.808[5]; 3. 75-Terry Phillips, 00:15.819[7]; 4. 7S-Sean Gaddis, 00:15.951[9]; 5. 6-Donnie Powers, 00:15.976[6]; 6. 65X-Carlos Ahumada Jr, 00:15.994[3]; 7. 7-Al Hejna, 00:16.149[2]; 8. 38TX-TJ Tolleson, 00:16.334[8]; 9. 71M-Chad Melton, 00:16.334[4]
Qualifying 3: 1. 91-Joe Duvall, 00:15.489[1]; 2. 87-Darron Fuqua, 00:15.647[8]; 3. 4W-Tyler Wolff, 00:15.693[6]; 4. 02-Tanner Mullens, 00:15.723[4]; 5. 0-Jake O'Neil, 00:15.840[3]; 6. 24-Manuel Williams Sr, 00:16.125[2]; 7. D25W-Kale Westover, 00:16.153[5]; 8. 15-Chase Wascom, 00:16.228[9]; 9. 40-Jessy Willard, 00:16.670[7]
Qualifying 4: 1. 20-Rodney Sanders, 00:15.470[2]; 2. 58X-Gary Christian, 00:15.705[9]; 3. 16-Chris Henigan, 00:15.714[3]; 4. 96-Taton Hansen, 00:15.728[4]; 5. 46-Jade Luzenberg, 00:15.745[8]; 6. C7-Corey Neil Jr, 00:15.924[6]; 7. 78-Billy Jack Brutchin, 00:15.975[7]; 8. 01-Jacob Hobscheidt, 00:16.032[1]; 9. 12J-Jason Ingalls, 00:16.067[5]
Qualifying 5: 1. 97-Cade Dillard, 00:15.199[1]; 2. K9-Will Krup, 00:15.265[9]; 3. 33Z-Zack VanderBeek, 00:15.400[6]; 4. 11X-Tom Berry Jr, 00:15.452[7]; 5. 10C-Cayden Carter, 00:15.528[8]; 6. 21K-Kyle Brown, 00:15.660[4]; 7. 24C-Jim Chisholm, 00:15.691[2]; 8. 4RJ-Jared Russell, 00:15.835[3]; 9. 13J-James McCreery, 00:16.069[5]
Qualifying 6: 1. 56-Colton Horner, 00:15.590[1]; 2. 12-Jason Hughes, 00:15.715[6]; 3. 2G-Kenny Gaddis, 00:15.778[4]; 4. 56X-Broc Bowen, 00:15.779[8]; 5. 712-Trevor Hughes, 00:15.915[5]; 6. 21-Jacob Bleess, 00:15.938[7]; 7. 9R-Barron Prince, 00:16.117[10]; 8. 25C-Cody Thompson, 00:16.119[3]; 9. 16B-Randy Brown, 00:16.240[2]; 10. 64-Casey Fowler, 00:16.624[9]
---
Submitted By: Kirk Elliott
Back to News