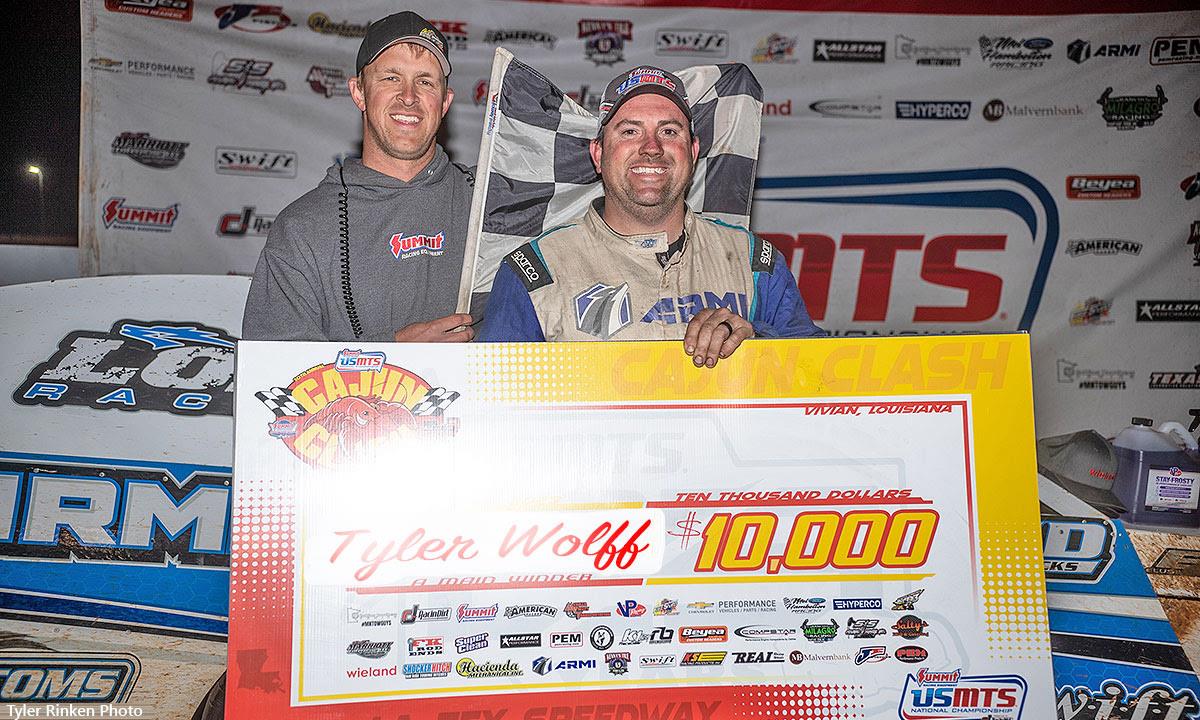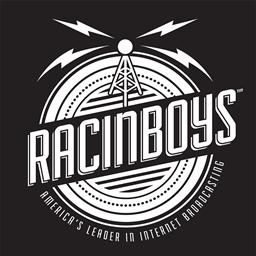 ---
Wolff wires pack for USMTS Cajun Clash triumph
By USMTS (Vivian, LA) -- Tyler Wolff dominated the 50-lap main event Saturday at the Ark-La-Tex Speedway and pocketed $10,000 for winning the 10th Annual USMTS Cajun Clash.
A handful of cautions and a little bit of lapped traffic sprinkled in were no help to the rest of the field. Wolff earned the Sybesma Graphics Pole Award, took the lead at the waving of the green flag and led Chris Henigan all the way to the finish.
Driving the No. 4W ARMI Contractors/Lobo Racing MB Customs Modified, it was the third career USMTS victory for the 37-year-old from Fayetteville, Arkansas.
Through seven races, the Summit USMTS National Championship presented by RacinDirt has now seen seven different winners driving seven different chassis with seven different powerplants under the hood.
Henigan is a two-time winner at the 'Land of Three Wide' but had to settle for runner-up honors while Zack VanderBeek registered a season-best third-place finish. Darron Fuqua and Dan Ebert rounded out the top five.
Sixth went to Kyle Brown, Jake O'Neil raced from 13th on the grid to seventh at the checkered flag, Jeremy Nelson started and finished eighth, Rodney Sanders nabbed the ninth spot and Carlos Ahumada Jr. was tenth at the finish line.
Nineteen nights from now, the Summit USMTS Modifieds refire their engines for the inaugural Ed Gressel Memorial at the 81 Speedway in Park City, Kan., Thursday-Saturday, April 20-22.
The Summit USMTS National Championship presented by RacinDirt currently features 46 nights of racing at 15 of America's premier dirt track racing venues in nine states for its Silver Anniversary season. Just the winners of those events are set to earn more than $300,000 with nearly $2 million in purses and prize money earmarked for the 2023 campaign.
Watch every USMTS event online live and on-demand from anywhere on any device with RacinDirt. Download the app at Roku, Amazon Fire, iOS, Apple TV or on Google Play.
Visit usmts.com for schedules, points, photos, souvenirs, videos and more. Follow our social media channels on Facebook, Instagram, Twitter and YouTube. Click here to get USMTS news delivered to your inbox.
RESULTS
Summit Racing Equipment A Feature 1 (50 Laps): 1. 4W-Tyler Wolff[1]; 2. 16-Chris Henigan[2]; 3. 33Z-Zack VanderBeek[4]; 4. 87-Darron Fuqua[6]; 5. 60-Dan Ebert[5]; 6. 21K-Kyle Brown[7]; 7. 0-Jake O'Neil[13]; 8. 4-Jeremy Nelson[8]; 9. 20-Rodney Sanders[15]; 10. 65X-Carlos Ahumada Jr[11]; 11. 12-Jason Hughes[14]; 12. 75-Terry Phillips[18]; 13. 10C-Cayden Carter[16]; 14. 11X-Tom Berry Jr[21]; 15. 01-Jacob Hobscheidt[17]; 16. 02-Tanner Mullens[23]; 17. 10B-Brandon Givens[19]; 18. 2G-Kenny Gaddis[27]; 19. 99L-Steve Lavasseur[24]; 20. 4R-Dereck Ramirez[20]; 21. 45-Chase Holland[10]; 22. 38T-Dylan Thornton[3]; 23. 12J-Jason Ingalls[28]; 24. 58X-Gary Christian[25]; 25. K9-Will Krup[9]; 26. 15W-Kale Westover[22]; 27. 91-Joe Duvall[26]; 28. 24C-Jim Chisholm[12]; 29. 97-Cade Dillard[29]
Real Racing Wheels B Feature 1 (15 Laps): 1. 0-Jake O'Neil[2]; 2. 20-Rodney Sanders[3]; 3. 01-Jacob Hobscheidt[5]; 4. 10B-Brandon Givens[8]; 5. 11X-Tom Berry Jr[1]; 6. 02-Tanner Mullens; 7. 2G-Kenny Gaddis[4]; 8. 12J-Jason Ingalls[7]; 9. D25-David Tanner[12]; 10. 11N-Gene Nicholas[16]; 11. 56-Colton Horner[6]; 12. 96-Taton Hansen[14]; 13. 58X-Gary Christian[10]; 14. 7S-Sean Gaddis[11]; 15. 21-Jacob Bleess[9]; 16. 16B-Randy Brown[18]; 17. 97-Cade Dillard[20]; 18. 712-Trevor Hughes[19]; 19. 46-Jade Luzenberg[17]; 20. C7-Corey Neil Jr[13]; 21. 6-Donnie Powers[15]
Real Racing Wheels B Feature 2 (15 Laps): 1. 12-Jason Hughes[1]; 2. 10C-Cayden Carter[4]; 3. 75-Terry Phillips[2]; 4. 4R-Dereck Ramirez[7]; 5. 15W-Kale Westover[3]; 6. 99L-Steve Lavasseur[5]; 7. 76-Kyle Pleasant[12]; 8. 71M-Chad Melton[9]; 9. 15-Chase Wascom[6]; 10. 40-Jessy Willard[18]; 11. 78-Billy Jack Brutchin[15]; 12. 2S-Steven Gaddis[11]; 13. 38TX-TJ Tolleson[14]; 14. 56X-Broc Bowen[8]; 15. 91-Joe Duvall[13]; 16. 7-Al Hejna[16]; 17. 4RJ-Jared Russell[17]; 18. 25C-Cody Thompson[19]
Simpson Performance Products Heat 1 (10 Laps): 1. 4W-Tyler Wolff[2]; 2. 21K-Kyle Brown[7]; 3. 65X-Carlos Ahumada Jr[8]; 4. 11X-Tom Berry Jr[6]; 5. 10C-Cayden Carter[5]; 6. 02-Tanner Mullens[3]; 7. 21-Jacob Bleess[9]; 8. C7-Corey Neil Jr[4]; 9. 46-Jade Luzenberg[1]; 10. 4RJ-Jared Russell[10]; 11. (DNS) 25C-Cody Thompson
Fast Shafts Heat 2 (10 Laps): 1. 4-Jeremy Nelson[2]; 2. 24C-Jim Chisholm[4]; 3. 38T-Dylan Thornton[6]; 4. 12J-Jason Ingalls[1]; 5. 01-Jacob Hobscheidt[9]; 6. 4R-Dereck Ramirez[5]; 7. 2S-Steven Gaddis[8]; 8. 96-Taton Hansen[3]; 9. 7-Al Hejna[7]; 10. 16B-Randy Brown[10]
Edelbrock Heat 3 (10 Laps): 1. 45-Chase Holland[1]; 2. 60-Dan Ebert[5]; 3. 20-Rodney Sanders[4]; 4. 12-Jason Hughes[6]; 5. 15-Chase Wascom[7]; 6. 7S-Sean Gaddis[3]; 7. 56X-Broc Bowen[10]; 8. 78-Billy Jack Brutchin[2]; 9. 11N-Gene Nicholas[8]; 10. 40-Jessy Willard[9]
Wieland Heat 4 (10 Laps): 1. K9-Will Krup[2]; 2. 0-Jake O'Neil[3]; 3. 2G-Kenny Gaddis[1]; 4. 75-Terry Phillips[5]; 5. 99L-Steve Lavasseur[8]; 6. 10B-Brandon Givens[7]; 7. 71M-Chad Melton[9]; 8. 91-Joe Duvall[4]; 9. 38TX-TJ Tolleson[10]; 10. (DQ) 97-Cade Dillard[6]
VP Race Fuels Heat 5 (10 Laps): 1. 87-Darron Fuqua[3]; 2. 33Z-Zack VanderBeek[5]; 3. 16-Chris Henigan[6]; 4. 15W-Kale Westover[7]; 5. 56-Colton Horner[8]; 6. 58X-Gary Christian[4]; 7. 76-Kyle Pleasant[1]; 8. D25-David Tanner[9]; 9. 6-Donnie Powers[10]; 10. 712-Trevor Hughes[2]
Qualifying 1: 1. 11X-Tom Berry Jr, 00:15.549[2]; 2. 10C-Cayden Carter, 00:15.616[4]; 3. C7-Corey Neil Jr, 00:15.644[1]; 4. 02-Tanner Mullens, 00:15.651[10]; 5. 4W-Tyler Wolff, 00:15.655[3]; 6. 46-Jade Luzenberg, 00:15.675[8]; 7. 25C-Cody Thompson, 00:15.816[5]; 8. 21K-Kyle Brown, 00:15.820[9]; 9. 65X-Carlos Ahumada Jr, 00:15.904[11]; 10. 21-Jacob Bleess, 00:15.937[7]; 11. 4RJ-Jared Russell, 00:16.025[6]
Qualifying 2: 1. 38T-Dylan Thornton, 00:15.462[7]; 2. 4R-Dereck Ramirez, 00:15.509[9]; 3. 24C-Jim Chisholm, 00:15.580[10]; 4. 96-Taton Hansen, 00:15.686[4]; 5. 4-Jeremy Nelson, 00:15.732[8]; 6. 12J-Jason Ingalls, 00:15.804[3]; 7. 7-Al Hejna, 00:15.845[6]; 8. 2S-Steven Gaddis, 00:15.851[5]; 9. 01-Jacob Hobscheidt, 00:15.928[2]; 10. 16B-Randy Brown, 00:16.189[1]
Qualifying 3: 1. 12-Jason Hughes, 00:15.526[7]; 2. 60-Dan Ebert, 00:15.613[10]; 3. 20-Rodney Sanders, 00:15.620[9]; 4. 7S-Sean Gaddis, 00:15.747[5]; 5. 78-Billy Jack Brutchin, 00:15.747[8]; 6. 45-Chase Holland, 00:15.802[6]; 7. 15-Chase Wascom, 00:15.899[1]; 8. 11N-Gene Nicholas, 00:16.054[3]; 9. 40-Jessy Willard, 00:16.456[2]; 10. 56X-Broc Bowen, 00:16.456[4]
Qualifying 4: 1. 97-Cade Dillard, 00:15.454[10]; 2. 75-Terry Phillips, 00:15.590[6]; 3. 91-Joe Duvall, 00:15.648[5]; 4. 0-Jake O'Neil, 00:15.665[4]; 5. K9-Will Krup, 00:15.708[1]; 6. 2G-Kenny Gaddis, 00:15.822[9]; 7. 10B-Brandon Givens, 00:15.826[7]; 8. 99L-Steve Lavasseur, 00:15.871[2]; 9. 71M-Chad Melton, 00:15.996[3]; 10. 38TX-TJ Tolleson, 00:16.452[8]
Qualifying 5: 1. 16-Chris Henigan, 00:15.733[10]; 2. 33Z-Zack VanderBeek, 00:15.767[3]; 3. 58X-Gary Christian, 00:15.778[8]; 4. 87-Darron Fuqua, 00:15.918[1]; 5. 712-Trevor Hughes, 00:15.994[2]; 6. 76-Kyle Pleasant, 00:16.013[5]; 7. 15W-Kale Westover, 00:16.069[7]; 8. 56-Colton Horner, 00:16.177[6]; 9. D25-David Tanner, 00:16.494[4]; 10. 6-Donnie Powers, 00:17.053[9]
---
Submitted By: Kirk Elliott
Back to News